This was SUCH a fun concept to come up with because a) who doesn't love buying an awesome pair of shoes, and b) who doesn't love justifying them with SEVEN different outfits??
Let me introduce you to the shoe, so appropriately named the Huntington Middie. It's casual, it's clean, and quite frankly it turns heads. Which is why I call it my game-changer shoe. But, GET THIS. As is the mission of everything Suits & Sneaks, I've taken this shoe and dressed it up for you to wear to WORK, to HAPPY HOUR, and yes, to simply #KEEPITCASUAL on the weekends.
So let's dive into this amazingly comfortable pair of sneaks (which include plush insoles btw!), styled SEVEN different ways for each day of your week. Here we go!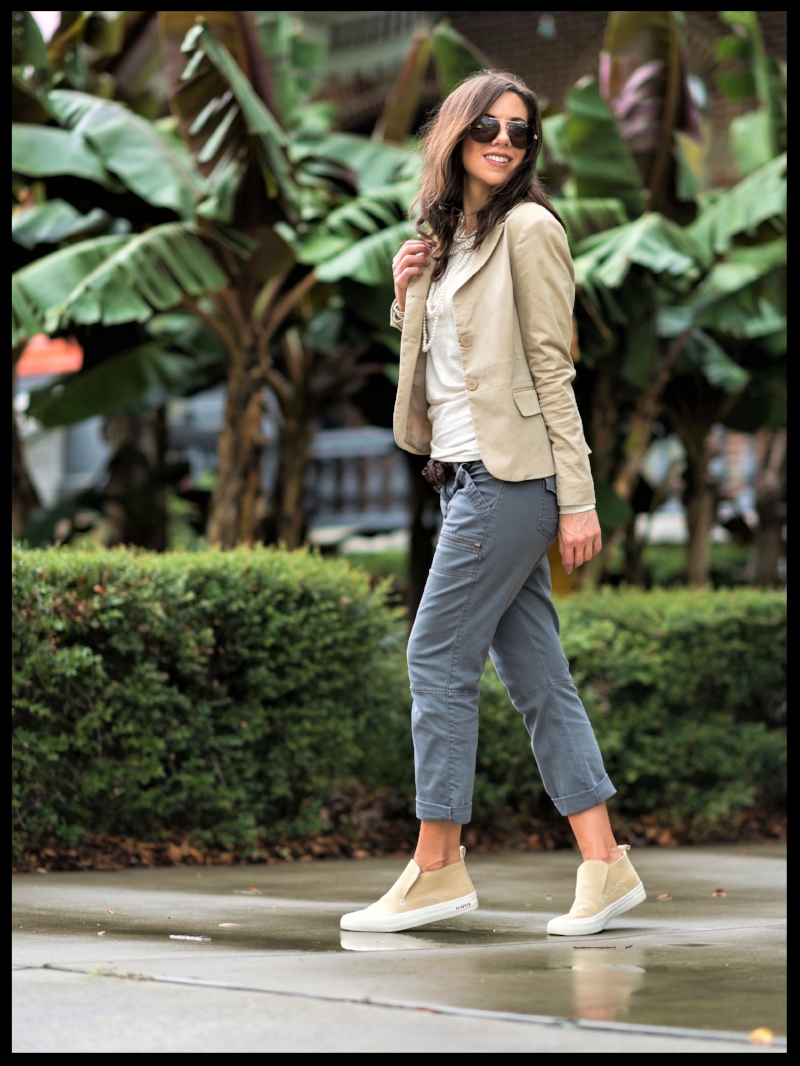 When All You Want Is Comfort.
When you wake up late, still feeling full and groggy from the weekend, and for the love of God just want to feel comfortable for the next 8 hours of your day....This is the outfit for you.
Offset Casual With a Dose of Glam
For the Perfect Polished Casual Look.
Offset the casualness and comfort of these pants and sneaks with a tan blazer. And, bedazzle yourself in pearls. You've heard me say this a million times: Offsetting is the way to go for that refined, polished casual look.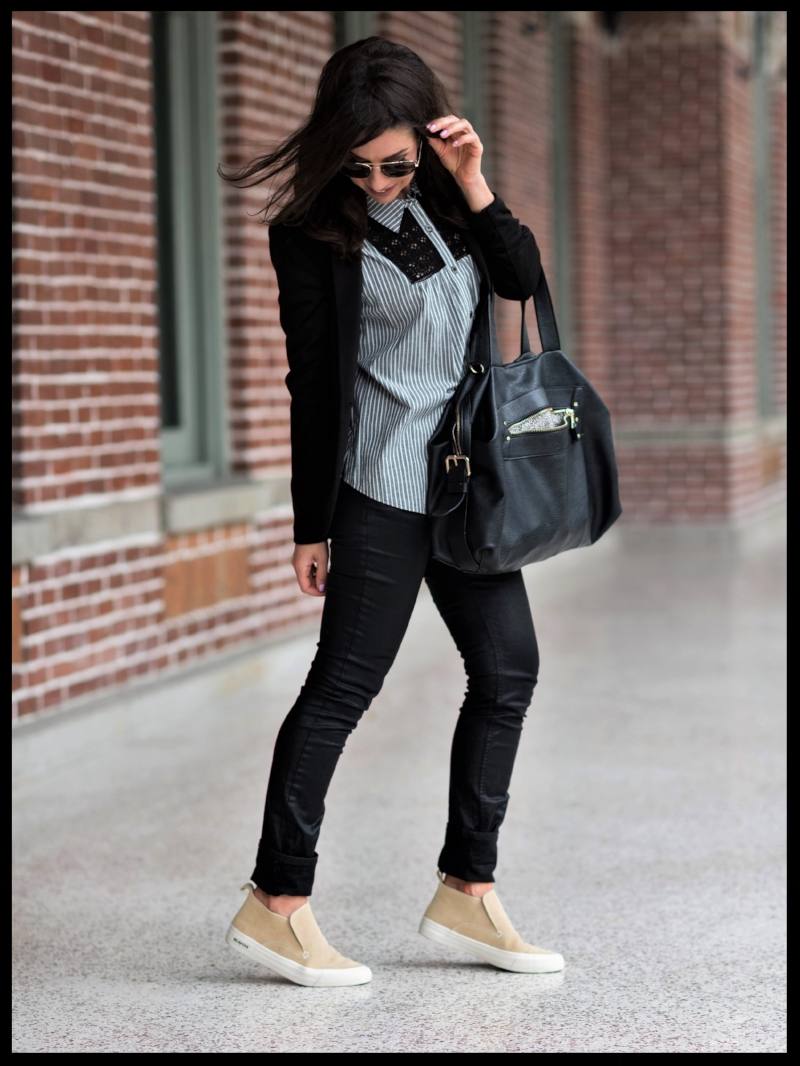 You made it through Monday looking good, and if your coworkers had some sort of decency, they saved those important meetings for Tuesday. Here's where you dress up your look with the easiest, most professional color out there - Black.
BUT, don't be boring and wear black shoes. That doesn't interest anyone.
Instead, look like you've got style sense by changing up the shoe color with your black pants and blazer. Sit down status-quo dressers. Game-Changer just walked into the room.
Halfway through the week and starting to tire out? Simply take it down a notch with a warm, comfy sweater and this soft, muted pink scarf. Next, offset the comfort on top with some dark fitted jeans or even a pencil skirt on bottom!
A popular happy hour day, they say. You definitely don't want to dress like a boring professional cause you're likely to hit up the bar scene after work. You also don't want to walk into the office LOOKING like you're hitting up the bar scene after work. #AMIRIGHT?
Why Limit Happiness to One Hour
Here's a happy medium that's fun, but smart enough for the office. And if jean jackets are more so meant for Friday, just switch this jacket out for a cute fitted blazer! Hello Polished Casual.
Ahhh, the day where the jean jacket IS allowed. Grab those comfy pants from Monday and just swap out the top! Here you could go with a neutral shirt, or get a little ballsy with a graphic tee under your jacket or blazer. Just don't forget the accessories with this look.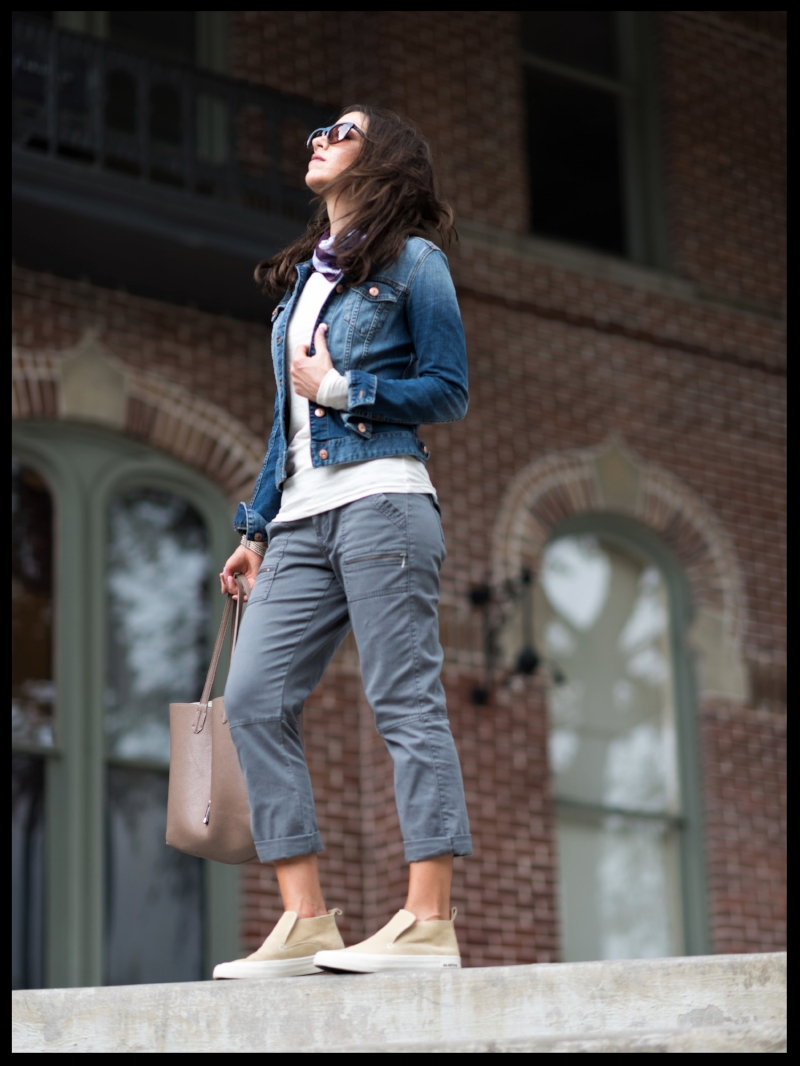 They Will Polish You Off.
While your threads are totes casual, you want to offset them with some accessories, like the bandanna scarf I've done here. Or how about fun jewelry like a wooden watch?? No matter how casual you go, accessories and jackets will always polish you off.
I absolutely LOVE these Middies with shorts. And here's where I stress how dang COMFORTABLE these shoes are. I never even got blisters from wearing them brand new! Take it from the girl with the foot injury that put her in sneaks in the first place. These shoes are SO EASY to wear while you're running around.
You Could Walk Miles In These Kicks.
The long cardigan takes the look up a notch. It also covers the top half of your thighs if you're feeling a little subconscious about them. Like in this case, I would've preferred tanner legs lol. Florida girl problems.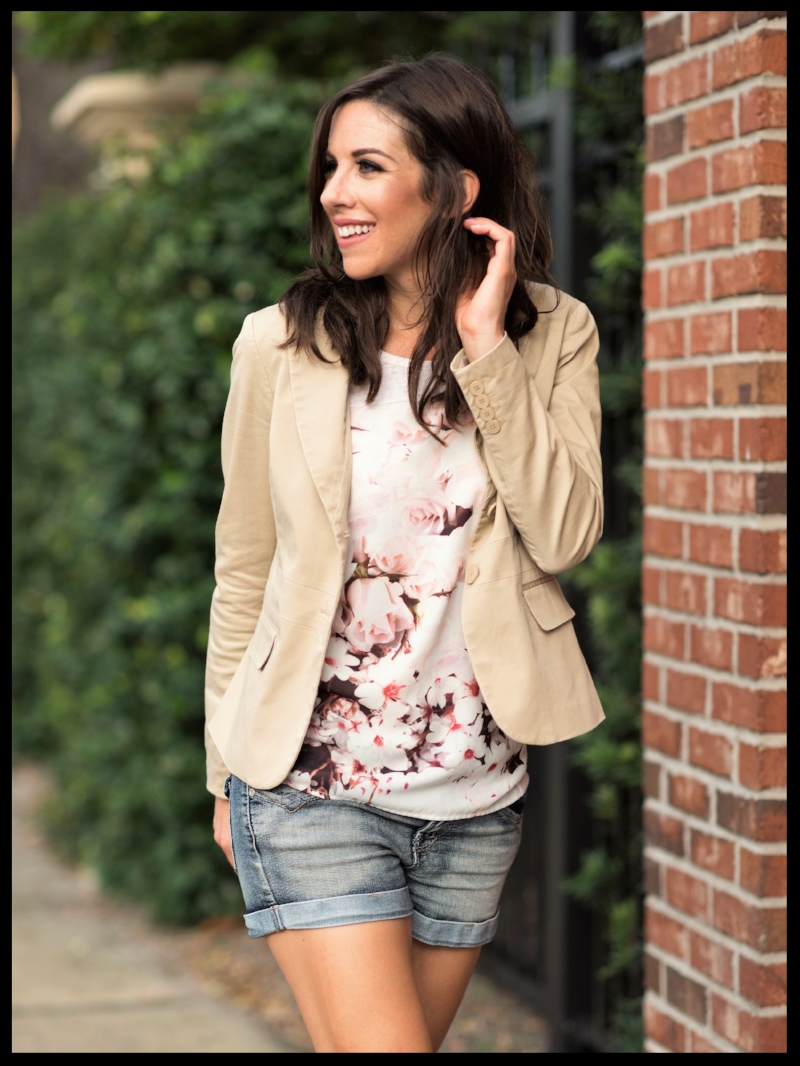 A day meant for rest that's quite often supplemented with shopping or brunching. Pair your Middies with a soft, floral shirt. Top it off with a neutral, fitted blazer, and bam! You're ready to walk in the door of any occasion.
She Rushed Out the Door and STILL Looked Styled.
My favorite part about this look are the sneakers and the blazer. Because the combo simply screams: This girl quickly ran out the door and STILL managed to look styled! Can we say #GOALS??
Speaking of occasion, today was a special day! I mean WOW. What a post! You just got SEVEN different outfit ideas! And all laid out for you with just ONE pair of sneaks!!!
I hope you all enjoyed browsing through the pictures and outfit inspiration to pair up with your new Middies! Click the signup or subscribe button and I'll send you an easy-access style card with all the deets!
And allow me to give mad props to my photographer Nick Pecori who took all of the beautiful pictures you see in this post. Comment below with what you think!